Clow Card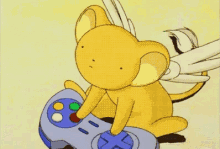 Basics
Name:
Keroberos (Kero)
Age:
100+ years old (years asleep included)
Magical Powers:
Has the ability to sense the other magical presences, though if a being is more powerful then him interference may be caused. When in his smaller form he can fly but until the Cardcaptor has captured The Firey he no access to his powers. After Firey has been captured however he does have the ability to breath fire. Then after all the cards have been captured he can transform into his true form and use all his powers, he also has limited control over the cards under his jurisdiction. He can produce a magical barrier that can protect himself and others against magical and physical attacks. His ability to  breath fire is more powerful in this form as well.
Skills:
Video Games
Personality:
Kero is a bossy, demanding, and gluttonous creature by nature he loves to play video games and eat a lot of sweets even though he doesn't really need eat. Kero is as the guardian of the Clow Cards however he happened to take a 30 year nap and this allowed Sakura Kinomoto to release the cards from their seal by accident. Despite all this he does care about Sakura and regards her as a friend, he does his best to guide Sakura in capturing the Clow Cards.
Roleplay Sample
"Ahhh come on you.." Kero fussed as he jammed the buttons on his gamepad. He was on the last level, the boss level and he was so close to beating his highest score and then his heart plummeted as he saw the black screen with the big red words on it "Game Over"

"Nooooo!" he cried as he fell over all that time and effort all of it wasted on one mistake. "Why are the fates so cruel" he said with exasperation. Debating with himself if he should restart the level or just try again later when someone opened the door to Sakura's room. He froze as he forgot that Touya, Sakura's brother was home, he had been to loud. "Sakura is going to kill me" he thought as sweat piled on his head as Touya walked into the room looking right at him.

The teenage had quite the stare, it was all Kero could do to stop from flinching as he was stared down. Touya looked about ready to say something when Sakura entered the room and gave her brother a strange yet  nervous look at what he was doing. "Big brother?" she asked looking quickly from Kero and Touya. Touya seemed to sigh and turned away from Kero. " I thought I heard something..." he said, though he gave Kero another pointed look before turning away and walking out of the room.

Kero let out a huge sigh, "He knows about me Sakura.. he has to" he said convinced he had been discovered. He could tell by Sakura's face however that she didn't think it was the case or she didn't want to think that her brother knew her secret. Kero wondered if he should just get it over with and talk to the boy and let him know what was up... And plus he could be as loud as he wanted when the boy was home and it wouldn't matter anymore! It might even be helpful, maybe Touya would start bringing him snacks and juice to when it was dinner? It would be awesome...

---
Permissions in this forum:
You
cannot
reply to topics in this forum